17th JCSDA Technical Review Meeting and Science Workshop Venue
17th JCSDA Technical Review Meeting and Science Workshop
29 May, 2019

to

31 May, 2019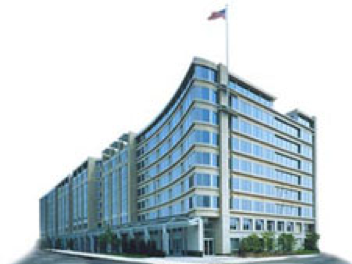 NASA Headquarters
NASA Headquarters Auditorium and Atrium
300 E Street S.W. (between 3rd and 4th Streets)
Washington, DC 20546-0001
(202) 358-0000
Visitor Security Information
There is no security to get into the headquarters auditorium or the atrium.
Event check-in will be facilitated by NASA personnel upon arrival at the headquarters atrium prior to arriving at the registration table for the workshop.
As a requirement for participation in a UCAR/CPAESS hosted event, all attendees will need to read and acknowledge the UCAR Participant Code of Conduct. A copy of this will be available on the registration form and at the registration table.
Parking Options
Closest Parking Garages:
Patriots Plaza II
375 E Street NW
Washington, D.C.
250 E Street SW
Washington, D.C.
The hourly rate is $11, or all day for $21. Their hours are 5:30 am - 7 pm.  Warning: they will close up and leave your car in the garage if you are not out by 7 pm. This is the closest lot to the Residence Inn and NASA headquarters (200 ft).
400 Virginia Ave SW
Washington, D.C.
400 E Street SW
Washington, D.C.
The rates for this lot are $10 for 1 hour; $15 for 2 hours; $25 for 8 hours, and early bird-in by 9 am is $15 for the day. Though this is further away than the other two lots, it is the recommended lot for the area based on pricing and reviews.
Map and Directions from Airport
The closest airport to NASA Headquarters is the Ronald Reagan Washington National Airport (DCA).  The driving distance from DCA to NASA Headquarters is approximately 3.5 miles.