The NOAA Weather Program Office (WPO) Innovation for Next Generation Scientists (WINGS) Dissertation Fellowship Program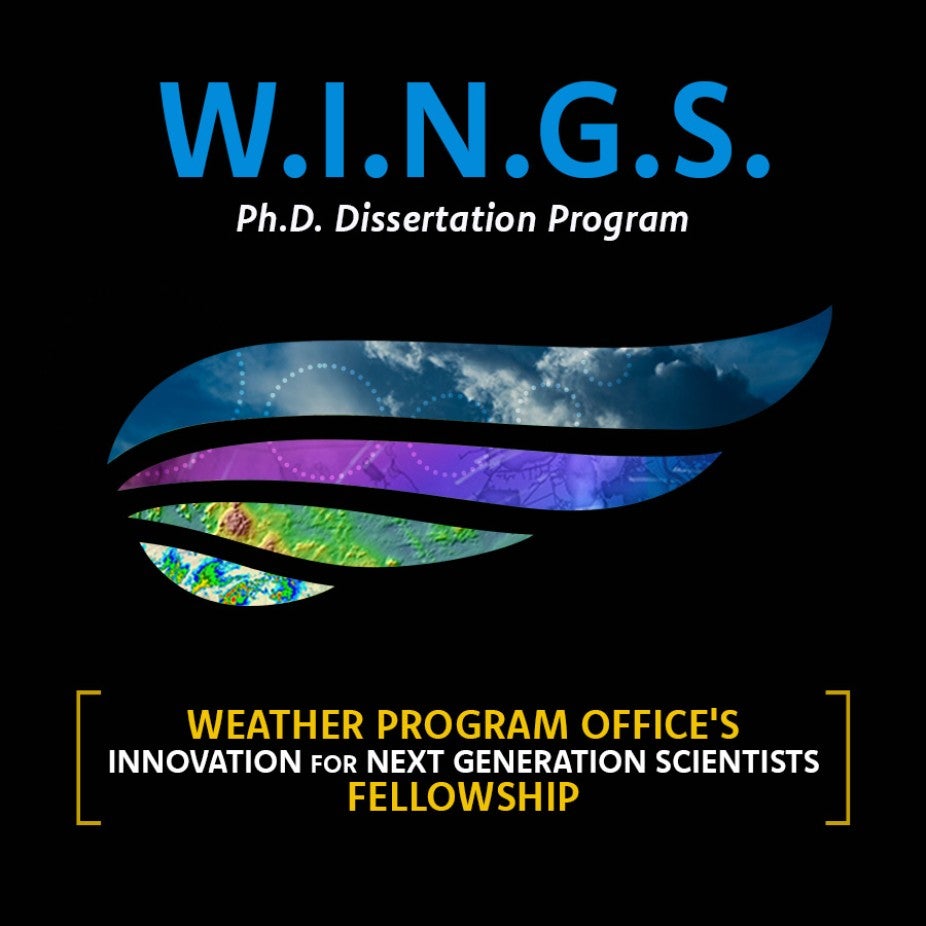 To accelerate advances in our nation's operational forecast modeling systems, NOAA created the Earth Prediction Innovation Center (EPIC) to continually improve reliable forecasts to reduce the devastating impacts of hazardous weather. As a part of this broad effort, the Weather Program Office (WPO) Dissertation Fellowship was created.
This fellowship is designed for Ph.D. candidates to work with both their academic advisor and a NOAA mentor when they have completed their Ph.D. coursework and are in the process of writing their dissertation. This fellowship will add real-world experience to the doctoral process and enable the student to gain insight into the application of their field with NOAA scientists.
NOAA has research experts that represent a variety of topics important to EPIC and the Unified Forecast System (UFS) including Climate dynamics, Oceanography, Paleo/geochemistry, Atmospheric Chemistry, Biosphere (ecology, corals, etc.), Cryosphere, Biogeochemistry/Carbon Cycle, and Land/Atmosphere Interactions.
Possible dissertation projects could be focused on one or more areas of scientific and/or technical importance shared by UCAR and EPIC, focusing on the Unified Forecast System
data assimilation,
atmospheric dynamics
atmospheric physics,
development of component models (e.g., land, ocean, ice, air quality),
verification and validation
post-processing,
systems architecture (coupling, workflow, and continuous integration and continuous development), and
machine learning/artificial intelligence.
This fellowship will be two years long, with a possible option of a third year, and the students will receive a stipend of $50,000 annually for the purpose of assisting doctoral students to create innovative research and engineering projects. This effort is to foster the next generation of science, technology, engineering, and mathematics (STEM) students.
We're delighted to be partnering with NOAA on this new program and excited about this innovative new opportunity for students. We will provide additional information as soon as it's available. Follow @UCAR_CPAESS and @NOAAEPIC on Twitter for announcements and check back frequently for updates!
Announcement display dates
-