Coastal Carolinas DEWS Strategic Plan Meeting
Coastal Carolinas DEWS Strategic Plan Meeting
Center for Marine Science
University of North Carolina - Wilmington
Wilmington, North Carolina
Meeting Menu
Meeting Objective
-Refine priorities and major tasks for the Coastal Carolinas DEWS. Meeting participants will have the opportunity to inform the Coastal Carolinas Strategic Plan, to be developed in summer 2016.
-Foster an information-sharing network around coastal drought issues. Meeting participants will have the opportunity to discuss how to advance the Coastal Carolinas DEWS through enhanced communications, coordination, and collaborations.

REGISTRATION
Registration is closed.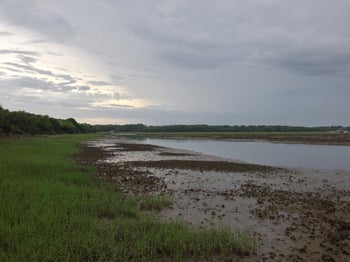 There are no registration charges for this meeting, but please register by May 26th to ensure an accurate count for meals and breaks.
Travel support is available for non-federal employees, If you are in need of assistance, please email Courtney Black or Amanda Farris with a formal travel request by the end of the day on May 23.
Federal employees are asked to contribute to their lunch cost. See MEALS and PAYMENT INFORMATION below.
AGENDA
MEETING VENUE
The meeting will start at 8:45 a.m. Thursday morning, 2 June 2016, at the Auditorium in the Center for Marine Science Building in Wilmington.  Please arrive by 8:30 a.m. for a Continental breakfast and to register.
Center for Marine Science
5600 Marvin K. Moss Lane
Wilmington, NC  28404
910-962-2301
The meeting will conclude at 4:00 p.m. on Thursday afternoon, 2 June.
HOTEL RESERVATIONS
A block of rooms is being held at the Best Western Plus Wilmington/Carolina Beach.
When you are ready to make reservations, please click on this link.  Room rates will be $98.00 plus tax and reservations have to be made prior to 10:00PM on 25 May 2016.  Individual cancellation policy is 5 days prior to arrival.  Allow 3-10 days to release hold on your deposit. Hotel has free Wireless Internet access in the lobby and all guest rooms.  It also has an indoor heated swimming pool and hot tub.
BEST WESTERN PLUS WILMINGTON/CAROLINA BEACH
5600 Carolina Beach Road
Wilmington, North Carolina, 28412-2608, US
Phone: 910/796-0770
Fax: 910/796-0750
| | |
| --- | --- |
| Check In | 3PM (15:00) |
| Check Out | 11AM (11:00) |
PARKING AT THE CENTER FOR MARINE SCIENCE BUILDING
Parking at the Center for Marine Science is free behind the building.
MEALS
A complimentary light continental breakfast and a working lunch will be provided on Thursday, June 2.  
NOTE:  Federal attendees and those on federal travel orders only - Please note that NOAA regulations prohibit UCAR from providing meals to federal employees. Therefore, it is requested that federal employees contribute $15.00 for the lunch; this amount is the lunch portion of the FY2016 GSA CONUS M&IE for Wilmington. 
Please note that UCAR accepts Visa and MasterCard only; see PAYMENT INFORMATION below.
Also please note that some US government credit cards and travel credit have restrictions placed on the them by your agency regarding which merchant ID number catergories they may be used for.  Such restrictions may prohibit you from paying online, due to UCAR's merchant ID number category, which is "educational establishment."
PAYMENT INFORMATION FOR FEDERAL EMPLOYEE'S
1. Proceed to https://www.fin.ucar.edu/epayment/startEpayments.do
2. Under "Payment Select", click on "Other Items" and then from the drop-down menu, choose "NIDIS Carolinas DEWS Lunch $15" and then click on the "Next" button.
3. On the following screen, enter the amount ($15) and fill in your billing information. When you are ready, click on the "Start Process" button.
4. You will receive an e-mail confirming your payment and the amount paid.
It is also possible to pay by check on the day of the event.  Please make your check payable to "UCAR," and bring it with you to the Workshop.  If you prefer to pay by check in advance, please mail your check to Kyle Terran UCAR-JOSS, P.O. Box 3000, Boulder, CO 80307.
QUESTIONS
If you have questions on the Workshop agenda or logistics, please contact:
Courtney Black at:  courtney.black@noaa.gov
Amanda Farris at:  brennaaf@mailbox.sc.edu
Kirsten Lackstrom at:  lackstro@mailbox.sc.edu