US CLIVAR
US Climate Variability and Predictability Program (US CLIVAR)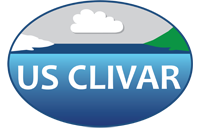 US CLIVAR is a national research program investigating the variability and predictability of the global climate system on seasonal, interannual, decadal and centennial timescales, with a particular emphasis on the role of the ocean and its interaction with other parts of the Earth system.
The US CLIVAR Program was created in 1998, and CPAESS has been managing it since 2000. CPAESS staffs the  Washington, DC office with a director and a program specialist, and provides infrastructure support by purchasing equipment and leasing office space.  We also provide technical and administrative support: IT, web development, workshop planning, and administration of program funds.  CPAESS manages funding from four federal agencies to operate US CLIVAR.
CPAESS has been managing the US CLIVAR Program since 2000.
In December 2013, US CLIVAR released a Science Plan that reviews progress over the past decade, outlines key outstanding science questions, and identifies new goals and objectives to guide research directions over the next 15 years. CPAESS has grown up with the program and is excited to go forward in partnership as US CLIVAR charts its future.