NOAA Climate & Global Change (C&GC) Postdoctoral Program
Program Overview
UCAR's Cooperative Programs for the Advancement of Earth System Science (CPAESS) manages the NOAA Climate and Global Change Postdoctoral Program on behalf of the NOAA Climate Program Office. Appointed fellows are UCAR employees and receive a fixed annual salary plus UCAR's employment benefits.
The overarching purpose of the program is to help create and train the next generation of leading researchers needed for climate studies. NOAA Climate and Global Change Postdoctoral Fellows focus on observing, understanding, modeling, and predicting climate variability, change, and impacts on seasonal and longer time scales. This includes the documentation and analysis of past, current, or possible future climate variability and change, as well as the study of the underlying Earth Systems processes, including physical-, chemical-, biological-, and/or coupled human-systems processes.
Over the past 33 years, the fellowship program has hosted 263 NOAA Climate and Global Change Fellows and has developed an outstanding reputation of attracting the best and the brightest PhDs in the sciences relevant to the NOAA Climate Program Office. Appointed fellows are hosted with mentoring scientists at U.S. universities and research institutions to work in an area of mutual interest.
The program traditionally supports a biennial Summer Institute in July and an annual alumni luncheon at the American Geophysical Union Fall Meeting each December. These events contribute to the community-building goal of the program by facilitating interaction of those associated with the program on a regular and consistent basis.
How to Apply
Please check back in the fall for the class of 2024 application deadlines.
Additional information can be found on:
Applicants to this postdoctoral program are expected to have had a PhD for no more than 3 years from the application deadline.  Advanced contact with a host is required.  Applicants must apply online at UCAR's Career Opportunities website.
Potential host scientists are required to submit a letter of intent to host, curriculum vitae, mentoring plan, and a list of current and pending research support as part of the selection process.  Hosts are expected to mentor the fellow, provide a reasonable office environment including a computer workstation, and cover any other unique research costs.
Program History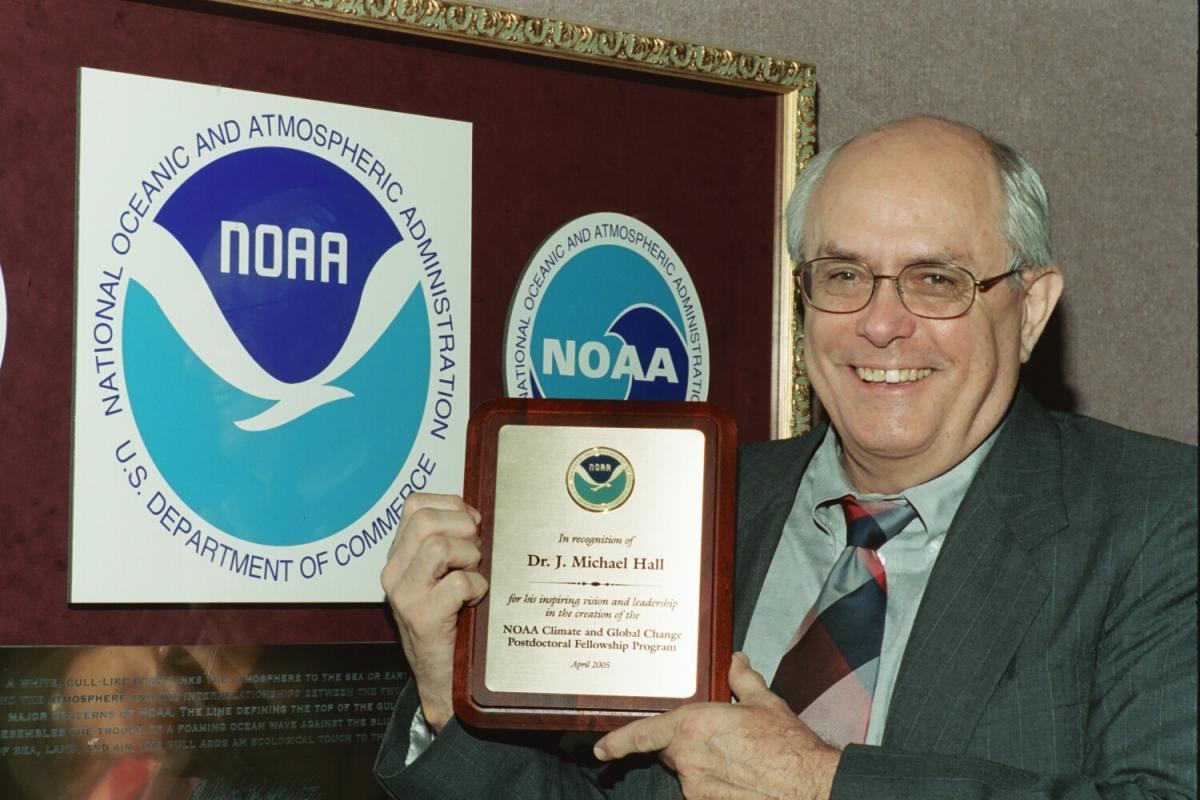 Dr J. Michael Hall, former director of the NOAA Climate Program Office, founded the NOAA Climate and Global Change Postdoctoral Fellowship Program in 1990. Anticipating the large amounts of data that was gathered from NOAA efforts, such as TOGA and TOGA COARE field programs, the research community required the attention of an enlarged workforce here and abroad. In a larger context, it was necessary to attract new PhD's to the community in order to establish the seeds of scientific leadership needed in the field of climate and global change research.
CPAESS (formerly UCAR Visiting Scientist Programs) has managed the program since its inception. The program has been highly successful. The program has also celebrated a 10th anniversary, a 100th postdoctoral appointment anniversary, and a 20th anniversary, which brought together alumni, current appointees, current and past hosts and many scientists and administrators who have supported the program over the years.  See Current Awardees & Alumni for information on every appointment made through this program.
During this time, 230 C&GC Postdocs have been hosted all over the United States.