8th International Radio Occultation Working Group Meeting - IROWG-8
Key Dates
| | |
| --- | --- |
| Dec. 20, 2020 | Intent to Attend |
| Jan. 22, 2021 | Abstract Submission Deadline |
| TBD | Abstracts Accepted Notification |
| Feb. 28, 2021 | Registration Deadline |
8th International Radio Occultation Working Group Meeting - IROWG-8
7 April, 2021

to

14 April, 2021
An international workshop for atmospheric sensing by radio occultation methods and the use of radio occlusion data in atmospheric physics, meteorology, and climate.
The joint 8th IROWG Workshop is an opportunity for the GNSS RO community to present and discuss the latest scientific, technical, and programmatic developments in the area. The objective of the joint workshop is to improve the management and use of RO measurements for operational and science applications.
Nominally taking place April 7-14, 2021 in Virginia at the National Conference Center located in the scenic hills of Loudoun County, Virginia just 45 minutes away from Washington D.C.
The IROWG Planning Committee is closely monitoring, in aligment with federal, state and local guidance and The Centers for Disease Control and Prevention (CDC) guidance related to the Coronavirus (COVID-19).  We continue to plan for the IROWG 2021 Workshop. If there are any changes to plans for the meeting, we will give immediate notice.
Topics to be discussed at the workshop will include:
Status and assessments of "agency-led" GNSS RO missions (e.g., COSMIC-2, FY-3C, Metop, PAZ)
Status and assessments of commercial missions
Climate applications
Improving the impact of GNSS RO measurements in operational NWP and climate reanalyses
Improving GNSS RO retrievals in the lower troposphere and upper stratosphere
Estimating the impact of future GNSS RO missions with OSSEs and the Ensemble of Data Assimilations approach
Ionospheric retrievals and space weather applications 
New innovations and applications of RO data
Student research session
General Workshop Format
With about 125 participants it is planned to have a workshop with no parallel sessions, high-visibility of posters and ample informal possibilities to enter into scientific discussion.
Presentation Types
Oral presentation: Invited keynote talk: 30 min slot, invited talk: 20 or 30 min slot, contributed talk: 20 min slot; the allocated time includes 3 min for discussion
Poster presentation: All posters will be displayed the entire conference, to be mounted Thursday ; poster board size is: 115 cm (width) x 148 cm (height)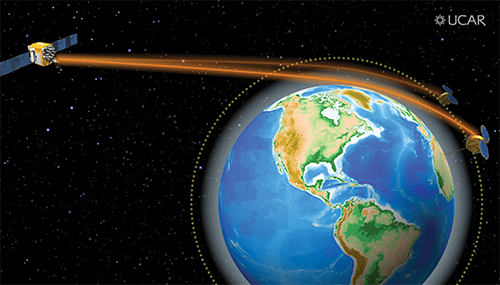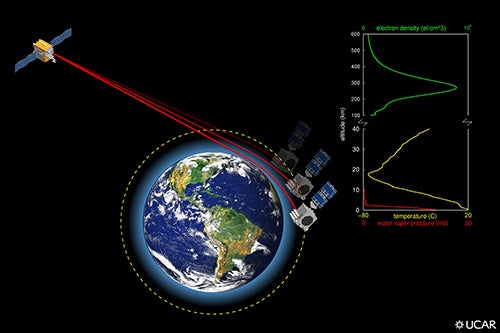 Workshop Contact Information
Please feel free to contact us with any questions concerning the workshop at:
Email: irowg-8@ucar.edu
Phone: 303-653-4321 (Heidi Allen)