System for Integrated Modeling of the Atmosphere (SIMA) Community Workshop 2020
System for Integrated Modeling of the Atmosphere (SIMA) Community Workshop 2020
29 June, 2020

to

1 July, 2020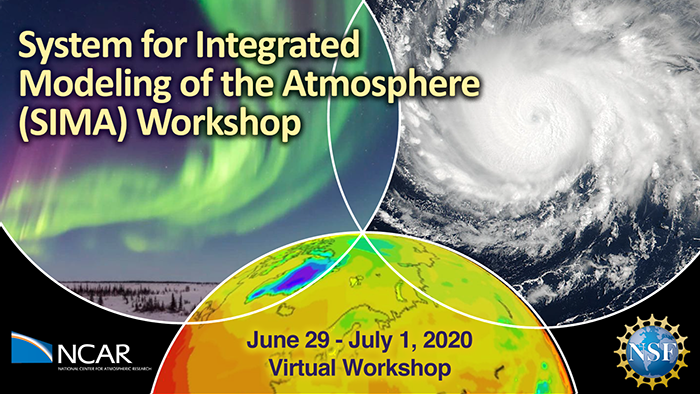 Workshop Details
Meeting Name:  System for Integrated Modeling of the Atmosphere (SIMA) Community Workshop 2020
Meeting Dates:  29 June - 1 July, 2020
Time:

June 29th: 10:00am to 12:00pm (plenary) and 1:00pm to 3:00pm (breakout #1) MDT
June 30th: 10:00am to 12:00pm (breakout #2) and 1:00pm to 3:00pm (breakout #3) MDT
July 1st:    10:00am to 12:00pm (synthesis) MDT

Location:

Virtual Workshop

  (Links to access the workshop to be provided at a later date)
Participant Pre-work
Selected participants are asked to review the SIMA background readings, SIMA Workshop Introduction Video and SIMA Community and Atmospheric Model User Experience surveys by Friday, June 26, 2020.
1.) Attempt to attend all planned sessions; time commitment ~10 hours total
June 29th: 10 am to 12 pm (plenary) and 1 to 3 pm (breakout #1)
June 30th: 10am to 12 pm (breakout #2) and 1 to 3 pm (breakout #3)
July 1st: 10 am to 12 pm (synthesis)
Note that all meeting times are in MDT 
2.) Review SIMA-related documents and videos; time commitment ~1.5 hours total:
3.) Participate in two surveys at least 1 week before the workshop; time commitment ~15 mins each
Purpose/Goal
The University Corporation for Atmospheric Research (UCAR), and the National Center for Atmospheric Research (NCAR) together with a grant from the National Science Foundation (NSF) are pleased to present a 2.5 day virtual workshop from June 29 to July 1, 2020 to communicate and discuss the development of a new unified framework for atmospheric modeling.
Scientific breakthroughs in understanding the climate system and resolving the uncertainties in the climate's response to anthropogenic activities is contingent on the availability of robust atmospheric models with a broad range of capabilities. In response to that need, SIMA, or the System for Integrated Modeling of the Atmosphere, is an effort initiated by NCAR to develop a unified atmospheric modeling framework for the broad scientific community.  The goal is for SIMA to enable scientific applications within and across climate, weather, chemistry, and geospace. This workshop aims to bring experts from within and across these modeling communities to discuss and refine the goals and objectives of SIMA, including disciplinary and cross disciplinary scientific objectives, applications, needed scientific components, and supporting software infrastructure.
Key outcomes of the workshop are an assessment of community support and a community plan for SIMA development that can be delivered to NCAR and the NSF. Preliminary versions of a vision statement, scientific objectives, software needs, and near term goals have been introduced at disciplinary workshops in 2019 including the CESM, WRF/MPAS, MUSICA, and CEDAR workshops.  This workshop is meant to bring the communities together to evaluate and discuss these plans and early progress.
Specific objectives and outcomes of the SIMA workshop are:
An updated vision statement
Input to the scientific objectives of SIMA and its future applications
Use-cases and workflow needs for atmospheric models over the next decade
Identification of critical near-term tasks and plans for moving SIMA forward
An assessment of community support for SIMA
Draft Agenda (coming soon)
Background Information
SIMA Vision Document (PDF)
SIMA Overview Presentation (PDF)
Organizing Committee
If you have any questions about SIMA, the workshop, or your participation, please do not hesitate to email the SIMA leads.
NCAR SIMA Leads
Andrew Gettelman (Climate; andrew@ucar.edu)
Bill Skamarock  (Weather; skamaroc@ucar.edu
Mary Barth (Chemistry; barthm@ucar.edu)
Hanli Liu (Geospace; liuh@ucar.edu)
SIMA Organizing Committee
Cecilia Bitz (University of Washington)
Shantanu Jathar (Colorado State University)
Astrid Maute (High Altitude Observatory / NCAR)
Craig Schwartz (Mesoscale and Microscale Meteorology / NCAR)
Colin Zarzycki (Pennsylvania State University)
Jean-François Lamarque
Director, Climate & Global Dynamics Laboratory / NCAR
Krista Laursen
Project Manager, NCAR Directorate
Roberta Spivak
Executive Assistant, CGD Laboratory / NCAR
Code of Conduct
UCAR/CPAESS requires that all meeting attendees read and agree to follow the Code of Conduct.