Building the Climate Community
The NOAA Summer Institute began 28 years ago for NOAA Climate and Global Change Postdoctoral fellows to present their research and connect with NOAA C&GC Alumni and other scientists in the field. This past July 17 - 21, 2022, CPAESS convened the NOAA Summer Institute in Steamboat Springs, Colorado. The NOAA Summer Institutes are held every other year in Steamboat Springs, Colorado, as part of the fellowship program, and are by invitation only. Its purpose is to bring together present and former fellows as well as host scientists, program sponsors, and other invited guests to share cutting-edge research accomplishments and discuss the future of climate research as it pertains to global climate change.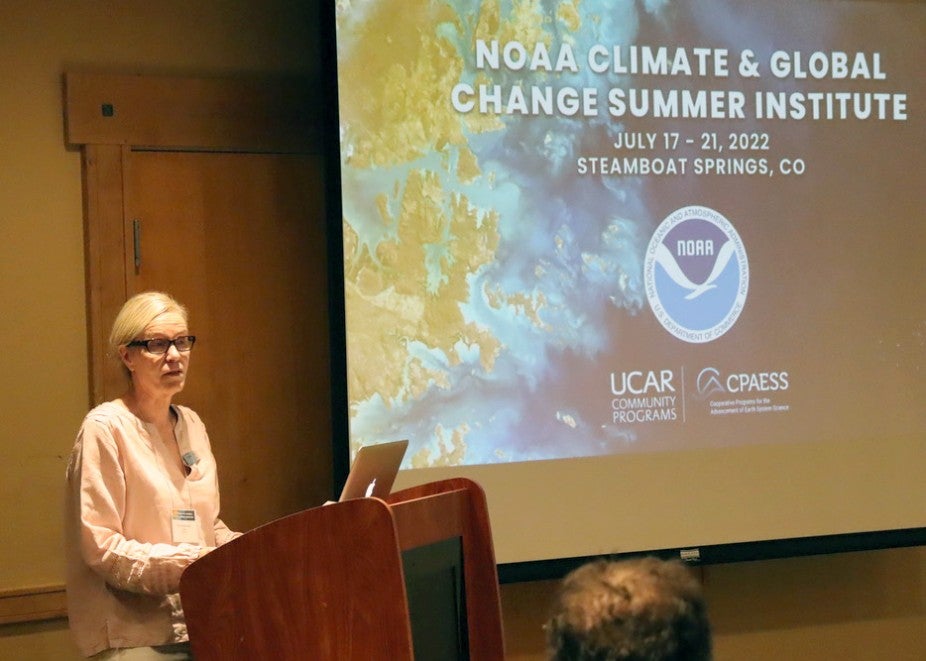 The Institute schedule consists of 4 days of scientific talks, interspersed with periods of recreational activities, and spirited discussions covering the wide range of disciplines represented by the expertise of the participants. The specific goals of the Summer Institute include: 
Developing a sense of community among climate and global change postdoctorates and senior researchers.
Exploring the breadth of climate and global change research problem areas.
Discussing the future directions of climate science research.
Discussing the bridge between climate and global change scientific goals and public policy.
Watch the Summer Institute video to hear more
This year the Summer Institute was opened by Hanne Mauriello, UCAR/CPAESS Director; Cindy Bruyere, UCAR/CPAESS Deputy Director; Ginny (Virginia) Selz, NOAA Climate Program Office; as well as Gretchen Keppel-Aleks, University of Michigan; and Adam Sobel, Columbia University who both served as the Summer Institute Co-Leads. This year we also had three guest speakers: Gidon Eschel, Harvard University; Jane Baldwin, University of California, Irvine;  and Fran Moore, University of California, Davis who each addressed the theme throughout this Summer Institute - Actionable Science. Students presented according to the interdisciplinary topics of: climate dynamics, paleoclimate, wildfire, ocean, and ecology | biogeochemistry. All together the fellows gave 19 talks on their research with each topic being moderated by an alumni. In the midst of this week there were panel discussions on questions such as: What should we be doing as climate scientists if we wish our work to have a positive impact in the world? As well as How do we deal with institutional and social barriers to interdisciplinary or user-driven research?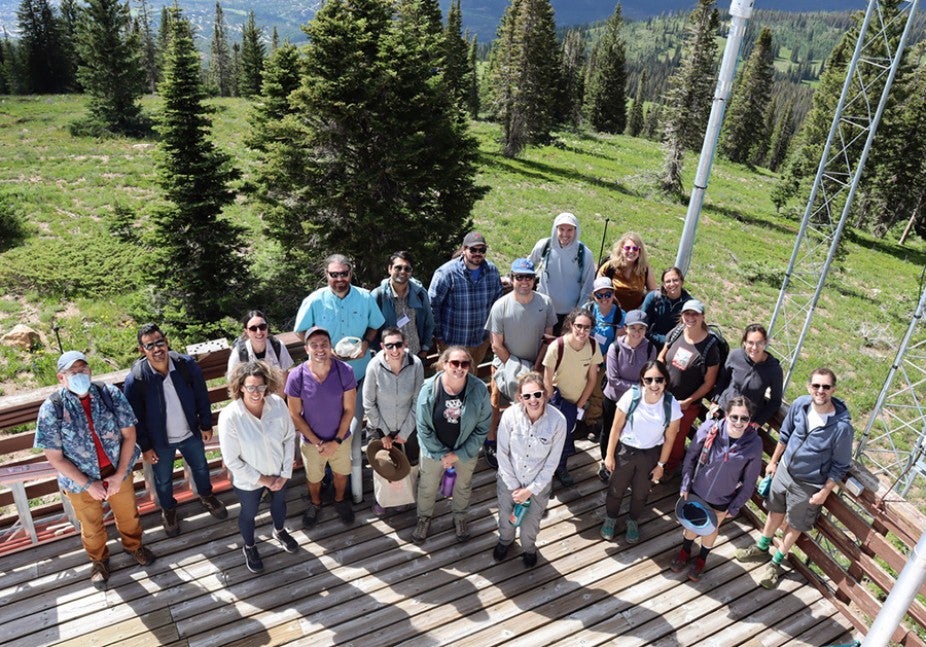 Additionally, on Wednesday we received a tour of the Storm Peak Lab
which is run by the University of Utah and is at approximately 1,150 meters above Steamboat Springs. It is a permanent research facility that allows for  recurrent long-term atmospheric data gathering and the study of meteorological processes. That evening local students came by to listen to some of the talks and asked questions. They also participated in the discussion concerning actionable science - and it was wonderful to see the passion in everyone's perspective and their hope to make things better.
The Summer Institute was time well spent connecting with and learning from this impressive group of climate scientists. The alumni were eager to engage with the fellows, and our postdocs were delighted to meet senior scientists established in the field. The variety of subdisciplines these scientists  represented, as well as their desire to move climate science forward to protect and serve our global community was evident and humbling.
Learn more about the NOAA Summer Institute and the NOAA Climate and Global Change Postdoctoral Fellowship.
Announcement display dates
-