David Keith | Geoengineering Experiment
Harvard University scientists are planning an experiment to test aspects of geoengineering, a method of artificially cooling the climate by purposely altering the atmosphere and natural ecosystems.
At an event this morning in Washington, David Keith, a Harvard professor of applied physics and public policy, said he hoped to get the project operational over the next few years. When launched, it would be one of the first attempts to test geoengineering methods in the field, outside of a lab. 
Keith envisions deploying a balloon that could initially shoot ice crystals into the middle stratosphere. An attached "gondola" could then measure how the ice crystals reflect heat and interact with the air.
The "goal is to make quantitative measurements of some of the aerosol microphysics and atmospheric chemistry that you need to estimate more about the risks and benefits of solar geoengineering," Keith said.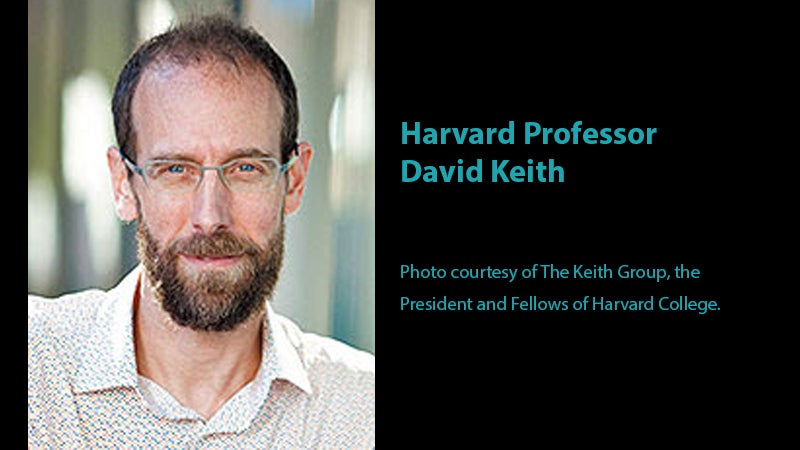 Keith added he and fellow Harvard professor Frank Keutsch are working with balloon company World View Enterprises Inc. on a possible launch site in Tucson, Ariz., for the test project.
The concept behind solar radiation management is that injected atmospheric particles can reflect heat into space. It's similar to what occurs naturally during large volcano eruptions, when particles shade incoming solar radiation.
Keith said the experiment would inject less than a kilogram of substances and wouldn't have a harmful impact on the environment. It's not meant to be a full-blown test of geoengineering's viability, but more an examination of the risks and benefits of solar radiation management, according to Keith.
Geoengineering has long been a controversial idea in climate change circles because of its potential negative impacts. Some scientists have proposed pouring iron into the oceans as a cooling mechanism, for example. Critics say that could have catastrophic consequences for marine life.
In January, the U.S. Global Change Research Program recommended further tests on solar engineering (Climatewire, Jan. 12).
Grants are funding Keith's planned experiment. Harvard is also launching a broader Solar Geoengineering Research Program this year. In an email, Gernot Wagner, a research associate at Harvard's School of Engineering and Applied Sciences, said the program is being funded by "a number of environmental philanthropies and private individuals."
Wagner confirmed a report in The Guardian that Microsoft co-founder Bill Gates is one of the program's backers.
The climate researchers intend to launch a high-altitude balloon that would spray a small quantity of reflective particles into the stratosphere.
James Temple, MIT Technology Review reporter
Published March 24, 2017
Courtesy: MIT Technology Review