Discovering What Lies in the Deep
Since 2009, UCAR | CPAESS and NOAA Ocean Exploration have hosted over 144 Explorers-in-Training. For many, this first experiential opportunity proved invaluable in subsequent academic and career pursuits. The Explorer-in-Training Program equips students with skills to meet the current and future demands of the ocean exploration workforce, providing meaningful experiential learning opportunities that support NOAA Ocean Exploration's mission and inspire ocean literacy for the next generation. The Explorer-in-Training Program offers multiple internship themes to reflect NOAA Ocean exploration's diverse expertise, work products, and services. This summer the themes included:
Hydrography & Seafloor Mapping (Offshore, expedition-based, 2-4 week internship): Mapping the seafloor via NOAA Ship Okeanos Explorer is an integral part of NOAA Ocean Exploration's mission, providing critical bathymetric data needed to characterize previously unexplored areas. NOAA's Okeanos ship, the only federally funded vessel used exclusively for exploration. Students in this track will work on projects related to multibeam sonar and sound velocity profile data acquisition and processing with support from the office's experienced mapping team. These interns will gain tangible skills in the use of geographic information system (GIS) software, hydrographic processing and display software, and data management.
Exploration Education, Media, & Science Communication (Shore-based, 10-week Summer internship): NOAA Ocean Exploration strives to engage stakeholders and improve ocean literacy of learners of all ages through our educational programs. To achieve our mission of community-driven exploration, we employ a suite of communication strategies and media tools that bring our discoveries to the public. Interns will work on cross-disciplinary projects to gain experience in scientific communication, ocean education programming, and media use.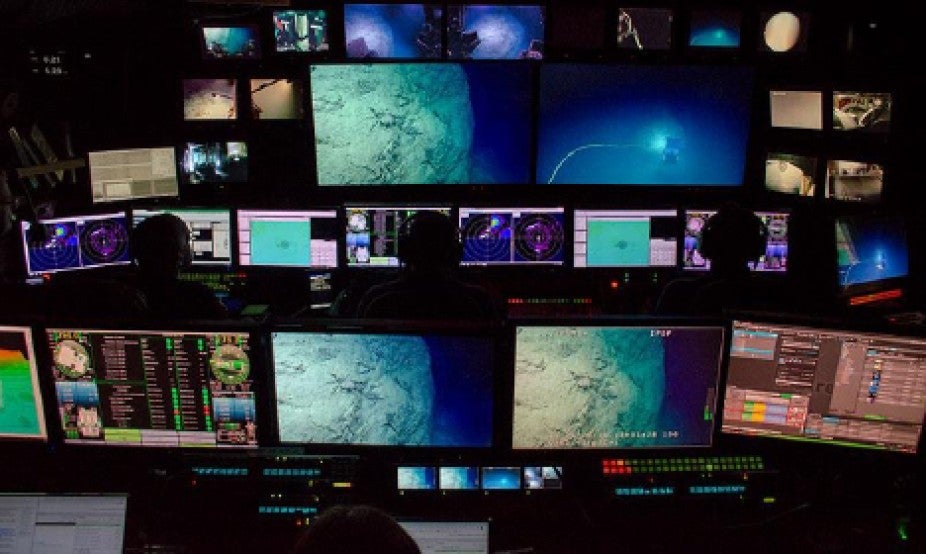 This year's Explorer In Training interns included Margaret Hanley of the College of Charleston, Kathrin Bayer of the University of California, Santa Cruz; Cassie Ferrante of Colgate University; Henry Arndt of the University of Colorado; Daryin Medley of Florida A&M University; and Paige Hoel of UCLA. Their internship opportunities spanned the breadth of possibilities within NOAA's Office of Ocean Exploration.
These students all engaged in a mapping internship aboard the Okeanos Explorer. "NOAA Ocean Exploration conducted a shakedown of mapping and remotely operated vehicle (ROV) systems in and around the Florida Straits. It then transited to San Juan, Puerto Rico, for two mapping expeditions, where they worked toward completion of the deepwater mapping in the U.S. Exclusive Economic Zone around Puerto Rico. During the second mapping expedition, they introduced and tested two deep-sea camera systems. These cameras, which will be attached to the conductivity, temperature, and depth (CTD) rosette, will collect still images and video of the water column and seabed, helping to further our understanding of these mysterious places (NOAA)."
Student intern Margaret Hanley explains "The goal was to collect baseline information about unexplored, poorly understood deep-water areas of the Charlie- Gibbs Fracture Zone through mapping and to allow the scientific community to determine ROV dive sites for EX2205. As an Explorer-in-Training, my job involved supporting bathymetric data collection guided by Sam Candio, Daniel Freitas, and Charlie Wilkins. I mainly worked on processing the multibeam data in the QPS Processing Suite and launching XBTs." Kathrin Bayer adds that they "focused on mapping the unexplored seafloor south of Puerto Rico… [and] assisted with cleaning and processing the data collected during the expedition."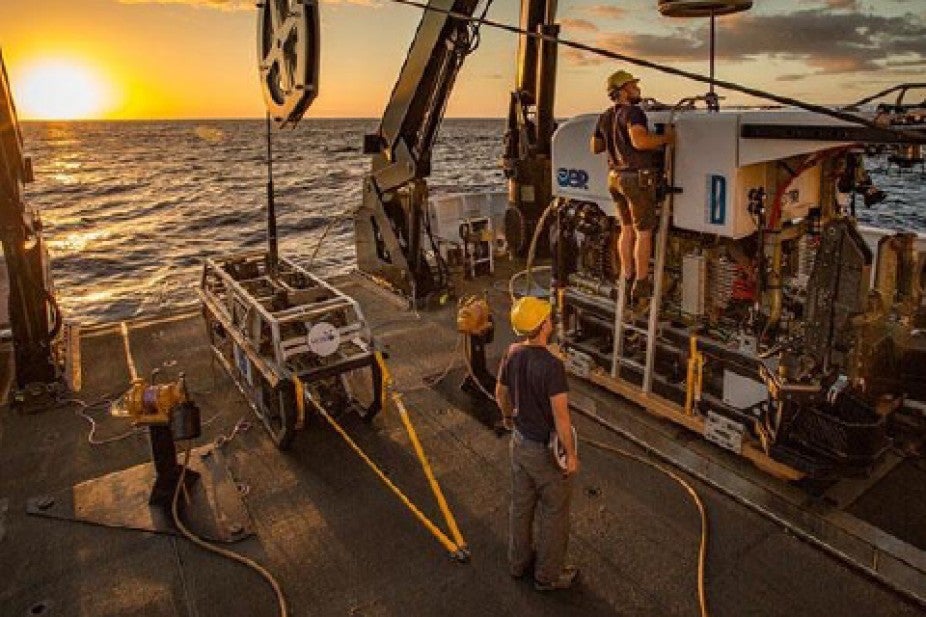 The tasks these interns performed were no small feat. "At the end of EX-22-02, I helped to map approximately 18,000 square kilometers of seafloor (approximately twice the surface area of Puerto Rico), personally investigated over 500 nautical miles of the seafloor for methane seeps and submitted nearly a week's worth of multibeam and backscatter products," said Henry Ardnt. Daryin Medley added that "All the data that we obtained will be made available to the public. Therefore, it will be used in other studies by scientists and students all around the world to further our knowledge of the ocean and its seafloor. The mapping can also be used for future ROV cruise if they wanted to get a closer look at the seafloor." So not only were these students able to really gain work experience research on an ocean vessel, their work is shared with the public for the benefit of us all.
The fact that this is a student internship may somewhat belie the complexity of the tasks these students were given to accomplish. Cassie Ferrante explained, "My main responsibility on the ship was processing bathymetric data. I would clean the incoming multibeam sonar data using the software Qimera, removing any outliers in the data that would distort the actual surface to produce a final bathymetric product free of artificial spikes. I would periodically create the daily products, including the multibeam, backscatter, and sub-bottom profiling products using Qimera, Fledermaus, and SEGyJP2 software. I would also process the midwater column data to find seeps or other objects of interest like shipwrecks, although our survey area was not expected to contain these. All of the processing that I worked on went through a quality control check by my mapping watch leads." As you can see this was a unique experience and opportunity on many levels.
Did the Explorer-In-Training program change the academic and professional paths of any of these students? Paige Hoel shared that "With the help of Shannon Hoy and Trish Albano I hope to be an onshore scientist supporting operations in the Pacific later this year. As I complete my Ph.D. I hope to remain close with the OER office and support, whenever possible, [their] efforts in the Pacific Ocean!" We hope so too Paige.
Learn more about the NOAA Explorer-In-Training program on the UCAR | CPAESS site and NOAA's. Applications for the program typically open in late fall, so keep an eye out for this opportunity.
Announcement display dates
-