Kelly Mahoney | Hail May be Disappearing
Study indicates hail may disappear from Colorado's Front Range by 2070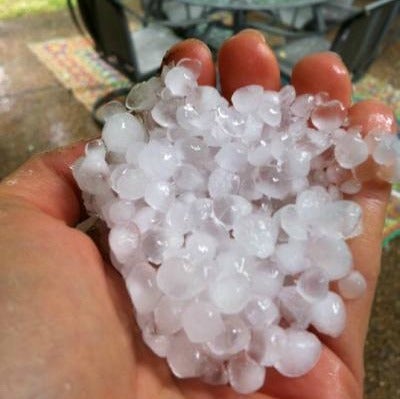 Lead author of a new study on hail's disappearance holds hailstones from a July 2011 storm in Boulder, Colo. Credit: Kelly Mahoney, NOAA.
Kelly Mahoney, Ph.D., is the lead author of the new study, published this week in the journal Nature Climate Change, and a postdoctoral scientist at NOAA's Earth System Research Laboratory (ESRL) in Boulder, Colo.
Kelly's postdoctoral research is supported by the Postdocs Applying Climate Expertise (PACE) program administered by the University Corporation for Atmospheric Research (UCAR) and funded by the University of Colorado Boulder's Cooperative Institute for Research in Environmental Sciences (CIRES), NOAA, and the U.S. Bureau of Reclamation. PACE connects young climate scientists with real-world problems such as those faced by water resource managers.
Less hail damage could be good news for gardeners and farmers, but a shift from hail to rain can also mean more runoff, which could raise the risk of flash floods, she said.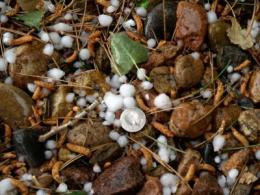 Summertime hail such as this, which fell in Boulder, could all but disappear from the eastern flank of Colorado's Rocky Mountains by 2070, according to a new modeling study by scientists from NOAA and several other institutions. Credit: Will von Dauster, NOAA
Watch Kelly's interview on CBS
Mountain Hail Could Be A Thing Of The Past
The long-range forecast—really long range—calls for the end of hail in the mountains. That's the prediction for the year 2070, according to new joint research.