Social Science: Building the Bridge between Physical Science and the Public Understanding
One of CPAESS' new hires is Senior Research Scientist Dr. Kim Klockow McClain who works in the National Centers for Environmental Prediction (NCEP) at NOAA's National Weather Service (NWS) in Norman, Oklahoma. One of the unique things about Klockow McClain is that she is a social scientist who engineers bridges between physical science and the public. Her position will focus on social, behavioral, and/or economic sciences as they relate to the operational, organizational and communications challenges of the NCEP service centers, which include the Aviation Weather Center, Climate Prediction Center (CPC), National Hurricane Center (NHC), Ocean Prediction Center (OPC), Space Weather Prediction Center (SWPC), Storm Prediction Center (CPC), and Weather Prediction Center (WPC). In addition, this position would work with the Environmental Modeling Center (EMC) on model post-processed products and their use by the NCEP service centers and external customers. Kim will engage with other NWS and NOAA offices and external stakeholders towards advancing greater communication and collaboration with all NCEP Centers. So the breadth of her job is great.
When asked about this unique role as a social scientist Klockow McClain shared, "social science research is an essential piece to include to be sure that we know that our science and services are making the difference for people that we want them to make. I work in the weather community and… [NOAA's] mission goals are really about preserving life and bolstering the economy. Those are implicitly social science objectives that a physical science agency has been charged to do. So you really need to bring in people who have that expertise in the human systems involved to help us understand how to achieve that mission."
Kim has a unique background for this groundbreaking role. She studied both meteorology and decision science in economics as an undergraduate, not knowing exactly how she would connect them but pursuing them because of her love for both. In a research fellowship she pursued the economic impacts of tornadoes as she delved deeper into the connectivity of the two. When examining how weather impacted people's decision making process she found that economics didn't really answer the psychological questions of risk, time pressure, and uncertainty. This led her to see more keenly the need for solid social science to assist in communicating and working with physical scientists to apply their research in a meaningful way to the public.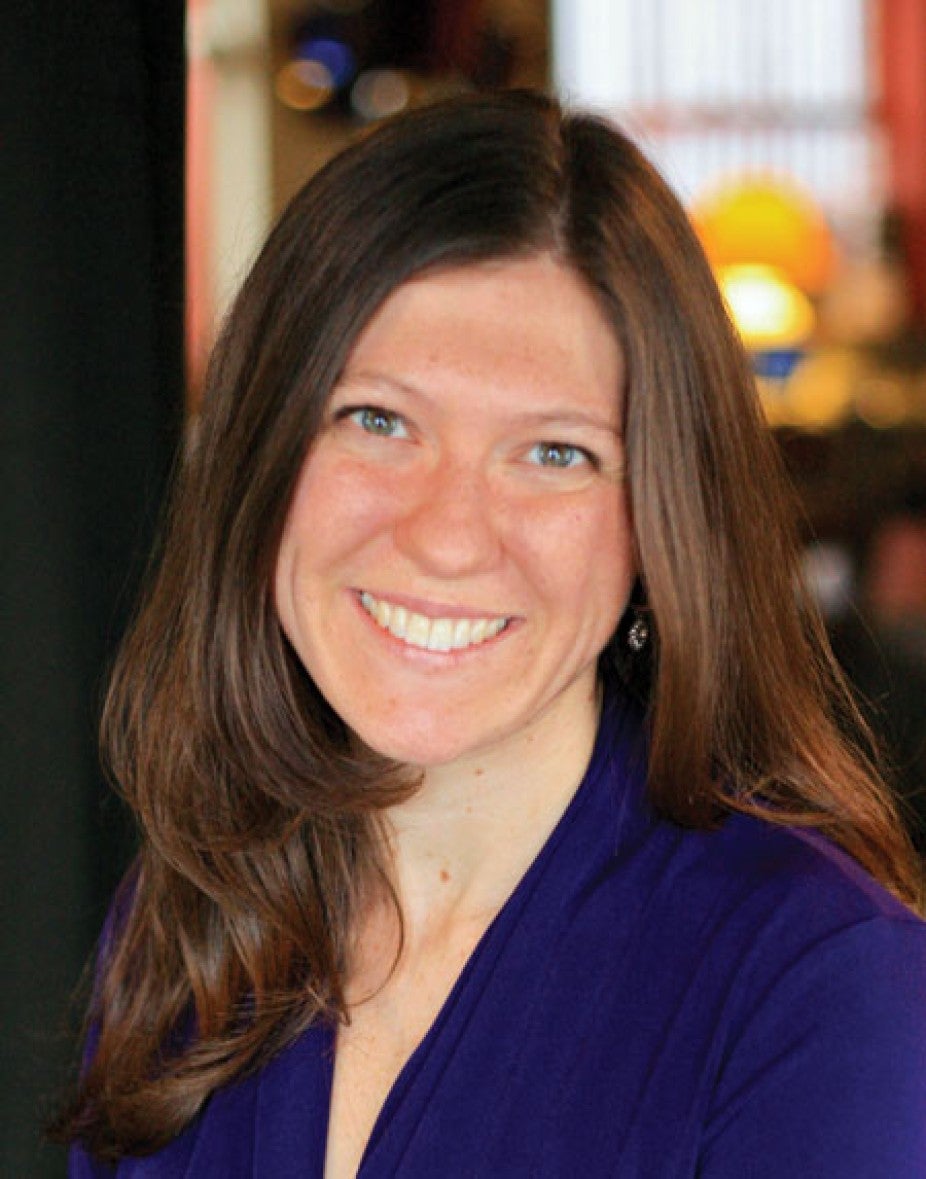 Klockow McClain's American Association for the Advancement of Science (AAAS) Congressional Science Fellowship helped her to better strategize how this bridge between physical science and people could be built with social science. She then worked in the NOAA Headquarters for several years as the first social scientist in what is now the Weather Program Office. Kim then went to the University of Oklahoma and the National Severe Storms Lab where she started the first "social science research team in the Weather Lab where it's called the Behavioral Insights Unit." Its purpose is to work alongside physical science developers and technology developers" so that the technology being developed is filling a clear need for emergency managers or the public.
Her position working with NCEP is a "first of its kind opportunity" and it's specifically on the operational side where she will enable the creation of an interpretive layer to the physical research so that it is clear how to best apply the research.  She is "working to [create] that last mile bridge, bringing that knowledge in figuring out what to do with it, helping evolve our organizations so that they can better serve the needs of our populations who are at risk." 
As the Social Science Coordinator for NCEP's operational centers, Klockow McClain is helping engineer better ways to communicate forecast uncertainty, and provide a practical lens to the vast amounts of predictive scientific information that has been created. The goal is to make sure communication is useful and not overwhelming, as well as relevant to the decisions users will have to make. To enable this, Kim is looking at how centers execute their science, seeing if they have user engagement processes, streamlining stakeholder engagement, evaluating these processes, and creating feedback loops within the community to continually improve processes that best serve everyone. As an example, she plans to utilize NCEP's test beds with stakeholders to better find out what information is most useful to emergency management, the public, and anyone else who might use their information.
Dr. Klockow McClain's position is unique but clearly one that will better enable the public to appreciate and utilize the potentially life-saving information generated by physical scientists. Enabling this information to be translated and framed into meaningful channels could make all the difference as to whether it is properly used or not. "What we really need to understand is our role in trying to help make things better and to come to a realistic appreciation for our goals and involve ourselves more with the society that we're living and working in. That creating a better forecast is a part of that, and finding better ways to relate to our communities is another. So it's really actually a very empowering path forward. We just have to build our social science capacity, bring in more people like me into all these organizations… I hope that over time, what you'll see is around me a whole cadre [of social scientists]. That will be how I know that I've succeeded."
Welcome to UCAR | CPAESS Kim! We are delighted to have you and your unique skill sets onboard to better serve the Earth system science community and the public good.
Announcement display dates
-