SPS CPAESS Deputy Director Recognized as 2024 AMS Fellow
We are thrilled to congratulate our own Dr. Cindy Bruyère for being acknowledged by the American Meteorological Society (AMS) as one of its 2024 Fellows. Cindy is the SPS CPAESS Deputy Director. This award is to recognize "outstanding individuals and organizations of the weather, water, and climate community" (AMS). Cindy will be acknowledged at the AMS Awards and Honors ceremony at the 104th AMS Annual Meeting in Baltimore, Maryland.
Dr. Cindy Bruyère's skills spans both leadership and research. She was the Director for the Capacity Center for Climate and Weather Extremes (C3WE) at the National Center for Atmospheric Research (NCAR). She was the 2020-2021 Scientific and Engineering Leadership Fellow for the University Corporation for Atmospheric Research (UCAR), and she is a Research Fellow at the North-West University, South Africa. She holds a PhD in Environmental Management and an MSc in Dynamical and Numerical Weather Modeling.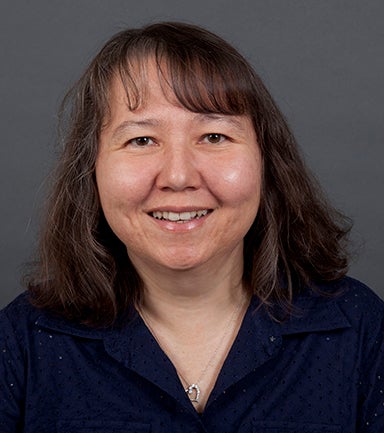 Dr. Bruyère started her career as a researcher at the South African Weather Service. Prior to joining NCAR, she was the Assistant Director of Research Programs and Project Manager for Operational Systems at the South African Weather Service.
Her research focuses on the impact of weather and climate extremes. She has published nearly 50 papers on these topics and often presents her work at conferences. As the nature of her is mostly convergent and actionable science driven, Dr. Bruyère is also responsible for fostering private/public partnerships. Over the last 15 years, she has successfully nurtured several international and national partnerships. These partnerships span government agencies, insurance and reinsurance agencies, water resource managers, The Nature Conservancy, the oil and gas industry, actuaries, and national and international universities. Besides strong national and international connections, she also has strong collaborations across NCAR. In her role as UCAR Leadership Fellow, she served as the Liaison for Strategic Partnerships. She also serves as Science Advisor for several groups – for example, Verisk, the Society of Actuaries, the Geneva Association Climate Change Forum, and the State of Colorado Climate Change Technical Advisory Group.
Dr. Bruyère has also been very active in the education space and have served as a mentor/advisor for numerous post-docs, PhD, Masters, and SOARS students. Now she manages the SPS | CPAESS educational programs such as the NOAA Climate and Global Change Postdoctoral Fellowship, the NASA Jack Eddy Postdoctoral Fellowship, the NOAA Weather Program Offices's WINGS Doctoral Fellowship, and the NASA Heliophysics Summer School.
Of the award Cindy shared "I am feeling incredibly honored and very humbled by receiving the AMS fellowship." We are delighted for this deserving acknowledgement of your work and sincerely congratulate you Cindy.
Announcement display dates
-