Welcome NOAA's Weather Program Office (WPO) Innovation for Next Generation Scientists (WINGS) Fellowship Inaugural Class
UCAR | CPAESS and NOAA's Weather Program Office are excited to welcome the inaugural class of the Weather Program Office (WPO) Innovation for Next Generation Scientists (WINGS) Dissertation Fellowship of 2023-2024. The purpose of this fellowship is to help Ph.D. students gain real-world, doctoral experience applying expertise in their field of study to weather model development with the Earth Prediction Innovation Center (EPIC). The WINGS Fellowship will develop and foster the next generation of science, technology, engineering, and mathematics (STEM) scholars, with the goal of bolstering the future workforce of America's Weather Enterprise.
The WINGS Fellowship is designed for Ph.D. candidates who have completed their required coursework and are in the beginning stages of writing a dissertation.  Fellows will work with their academic advisor and a mentor recommended by WPO and CPAESS, to provide guidance during the dissertation process.  This inaugural award year will focus on research relevant to NOAA's Earth Prediction Innovation Center (EPIC) Program mission - to serve as a catalyst for community research and modeling system advances that continually inform and accelerate improvements in the Unified Forecast System (UFS), spanning local to global domains and predictive timescales from sub-hourly analyses to seasonal predictions. It will be a pilot focused on scientific outcomes related to the EPIC program, which aims to improve operational weather and climate forecast systems through scientific and technical innovation via model co-development with the weather enterprise. 
Future fellowship years will explore other aspects of the WPO's research. "In pursuit of its vision and mission, WPO works closely with the National Weather Service (NWS) to help develop and transition weather research, including hurricanes, severe thunderstorms, heavy precipitation, and air pollution. Additionally, WPO utilizes social science to learn how to deal with the uncertainties weather presents and to inform its engagement and communication with researchers, funders, and the public" (NOAA).
Dorothy Koch, Director of NOAA's Weather Program Office, is excited about the launch of this new weather educational program and community partnership. "WINGS is enabling NOAA to foster the education of scientists in areas most critical for improving weather research and forecasting, and I am looking forward to welcoming this first class of recipients to work with EPIC and the UFS!"
Hanne Mauriello, Director of UCAR's Scientific Partnerships and Services Center (SPS) and CPAESS said of the program "We are honored to manage the new WINGS program. NOAA's Weather Program Office is incredibly insightful to have created a fellowship to help students gain real world experience in the field while they are completing their dissertation. This combination of academic and experiential learning  will uniquely enable these students to succeed in addressing the future needs of our nation with weather forecasting."
The WINGS Dissertation Fellowship will be awarded for two years with a potential extension if approved. The WINGS Dissertation Fellowship  is sponsored by NOAA's Weather Program Office and selected by the University Corporation for Atmospheric Research (UCAR)'s  Cooperative Program for the Advancement of Earth System Science (CPAESS). 
WINGS will enable fellows to gain insights into their respective fields of study, support the fellows' integration into the workforce, and offer a unique opportunity to contribute to forecast model development. Proposals on this following topics were considered for this inaugural FY23 WINGS cohort as follows:
Data Assimilation

Atmospheric Physics

Systems Architecture (coupling, workflow, continuous integration and development)

Machine Learning/Artificial Intelligence

Software Engineering to advance numerical weather prediction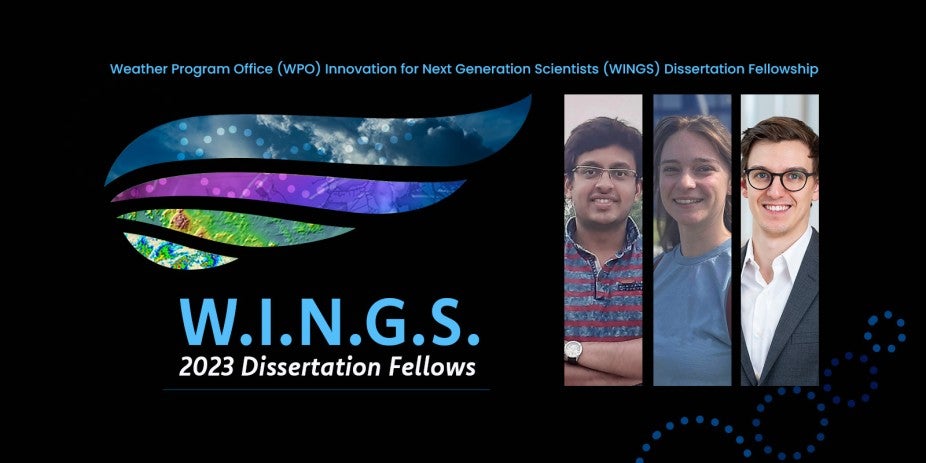 A sincere congratulations to our new fellows!
2023 Weather Program Office (WPO) Innovation for Next Generation Scientists (WINGS) Fellowship Awardees
Shreyas Rajendra Dhavale
Host: Dr. Anantha Aiyyer
PhD Institution: North Carolina State University
Proposal: The origin and evolution of the Monsoon onset vortex and its subseasonal impacts: Integrating Theory and predictability studies using the UFS
Emily Faber
Host: Dr. Adriana Rocha-Lima
PhD Institution: University of Maryland Baltimore County (UMBC)
Proposal: Impacts of Surface Winds on Dust Emissions: Comparison of Measurements and Models to Improve Model Parameterization and Further Understanding of Sub-grid Processes
Joseph Knisely
Host: Dr. Jon Poterjoy
PhD Institution: University of Maryland's Department of Atmospheric and Oceanic Science (AOSC)
Proposal: Exploring New Satellite Bias Correction Methodologies for Numerical Weather Prediction within Theoretical and Operational Frameworks
It was our sincere pleasure to be able to connect with these new fellows and our NOAA Weather Program Office partners at the recent "Unifying Innovations in Forecasting Capabilities Workshop" CPAESS managed in Boulder, CO where our fellows shared their science with attendees.
Learn more about the NOAA's Weather Program Office (WPO) Innovation for Next Generation Scientists (WINGS) Fellowship. 
Announcement display dates
-