The 2016 Pan-NSF REU Workshop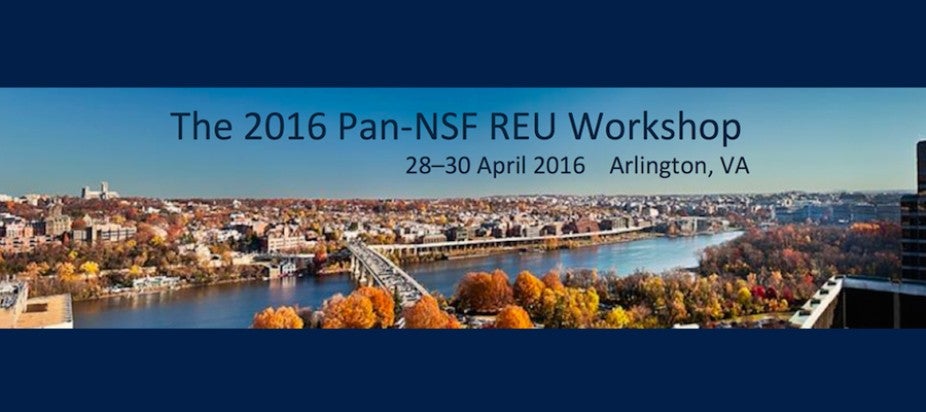 Apr. 28 to Apr. 30, 2016
6:00 pm MDT
Arlington, VA
Main content
Please see the final NSF Pan REU PI Workshop Report.
This meeting brings together about 75 REU leaders from disciplines across NSF to share challenges and strategies, build community, and find ways to share tools and resources going forward. We also hope to identify areas of collaboration that could increase access and diversity across NSF REUs, and promote efficiencies in program recruitment, evaluation, and student tracking. The conference is funded by the National Science Foundation, and travel support is available to qualified attendees to encourage a breadth of participation.
The conference is funded by an NSF grant 
The workshop starts Thursday evening, April 28th, and ends midday Saturday, April 30th.  The format will include:
A poster session (see more, below)
A panel discussion with NSF Program Officers
Small breakout group discussions
Presentations
Networking activities
Opportunities to record discussions & share resources online
An agenda will be posted closer to the date of the workshop.
Poster session: We are hoping that you will present posters on practices or results from your program that might be beneficial to other REUs, or about how your share strategies with - or get support from - REU colleagues within your discipline.  A poster abstract submission web page will be available here soon.
NSF's REU programs share the common goal of diversifying the scientific workforce and strive to recruit a diversity of undergraduate student participants in their programs. This workshop will provide a venue for program directors to share best practices and establish collaborations that will improve the efficacy of the REU programs and broaden the impact.