Exploration in Alaska aboard the Okeanos
One of the many programs that CPAESS works on is the NOAA Explorer In Training Internship. As part of its mission to train the next generation of ocean explorers, scientists, engineers, and communicators, NOAA Ocean Exploration hosts students in the Explorer-in-Training Program. These interns gain valuable, interdisciplinary experience in ocean exploration while collaborating on office projects and expeditions.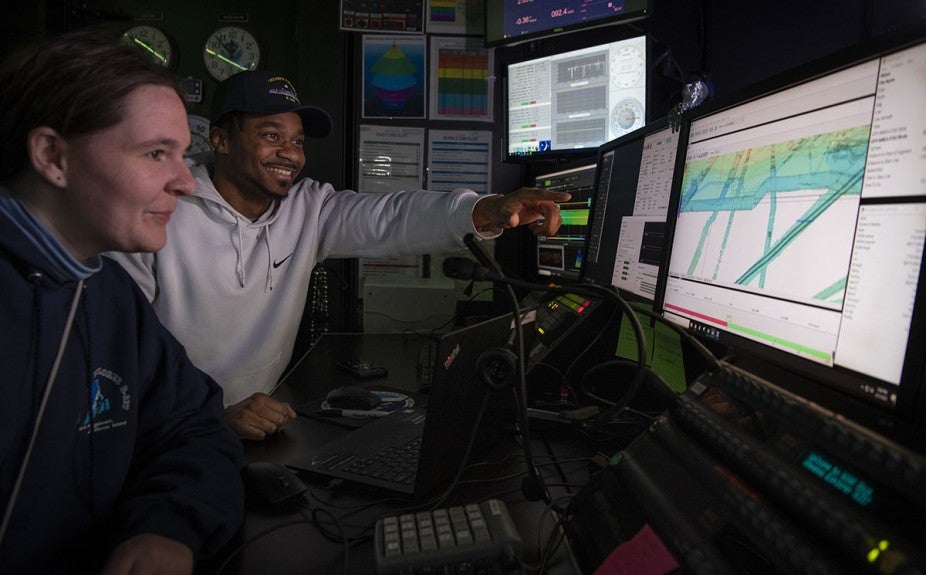 The program equips participants with skills to meet the current and future demands of the ocean exploration workforce, providing meaningful experiential learning opportunities that support NOAA Ocean Exploration's mission and inspire ocean literacy for the next generation. The program features two internship options: (a) 2 to 4-week expedition-based opportunities and (b) 10-week summertime opportunities. The 10-week internships give students an opportunity to develop their skills and knowledge through long-term projects supported by NOAA Ocean Exploration mentors. The 2 to 4-week expedition-based internships involve participation in specific NOAA Ocean Exploration-supported expeditions, giving participants the chance to contribute to mission efforts while gaining tangible skills that can benefit their future pursuits.
Some of these internships are aboard NOAA's Okeanos, the only federally funded vessel used exclusively for scientific exploration. The 2-4 week Hydrography and Seafloor Mapping internship takes place aboard Okeanos. Students will provide critical bathymetric data needed to achieve a baseline understanding of previously unexplored areas. They will support mapping operations by collecting and processing these data with support from experienced mapping technicians. Beyond seafloor mapping,  these interns will also participate in water column and sub-seafloor mapping, and gain tangible skills in the use of geographic information system (GIS) software, and data management.

This year three interns have been selected for this expedition and are Dana Carris, graduate of Texas A&M University; Brett Woodworth, graduate of SUNY Geneseo; and Cameron Kuhle, graduate of the University of Alaska. Of the opportunity Brett shared "In my future career, I aspire to conduct research for an organization, like NOAA, and the Explorer-in-Training Internship will allow me to gain tangible skills working with bathymetric tools and data to prepare me for a career in deep-sea research. I look forward to learning how to conduct at-sea research, add seafloor mapping to my researching repertoire, and make lasting professional connections for potential future collaborations and career opportunities." While Cameron explained that a "lifetime in Alaska has made evident to me that our livelihood is intertwined with the ocean, and after I have explored and learned so much about terrestrial Earth environments it is now time to expand my knowledge of marine systems, both physical and biological. I am looking forward to not just connecting with researchers and professionals to learn oceanography with state-of-the-art techniques and technology, but to have a personally-enriching oceangoing experience seeing a part of the world near my home state that is inaccessible to even residents."
They will be arriving in Seattle to head to Dutch Harbor, Alaska this May. "From the end of March through April, NOAA Ocean Exploration will conduct shakedown mapping and remotely operated vehicle (ROV) diving operations along the U.S. west coast before transiting to Alaska and spending the majority of the field season in Alaskan waters and throughout the Aleutian Islands (source NOAA)." Congratulations to each of you for securing this incredible opportunity. Learn more about this program and the Okeanos.
Announcement display dates
-