Women Scientists at NOAA's Climate Program Office
March 8th was International Women's Day and we are proud to highlight some of CPAESS' female scientists who work for NOAA! In preparation for the day, some of our co-workers helped put together a two-part speaker series to honor the outstanding women who contribute to NOAA's mission. CPAESS has five women scientists who work for NOAA's Climate Program Office. Kathy Tedesco, Emily Osborne, Emily Smith and Shelby Brunner all helped organize NOAA's Women in Science effort. NOAA staff nominated women to speak and represent women scientists for Internaional Women's Day. From the 49 nominations, ten women were chosen to speak on March 7th and 8th. Among these ten were our own Emily Osborne and Emily Smith. Shelby Brunner is working on the digital campaign throughout this month that highlights the work of NOAA's female scientists. We are very proud of CPAESS' scientists who work with NOAA and their service to our world through good science. 
Dr. Kathy Tedesco currently serves as Program Manager in CPO-OOMD for Ocean Carbon Observations and the Tropical Pacific Observing System (TPOS2020). Kathy has participated in over 25 research expeditions as a student, instructor, scientist and chief scientist collecting and analyzing CFCs, SF6, 3HE, DIC, gravity and multi-cores, and recovery and deployment of sediment traps.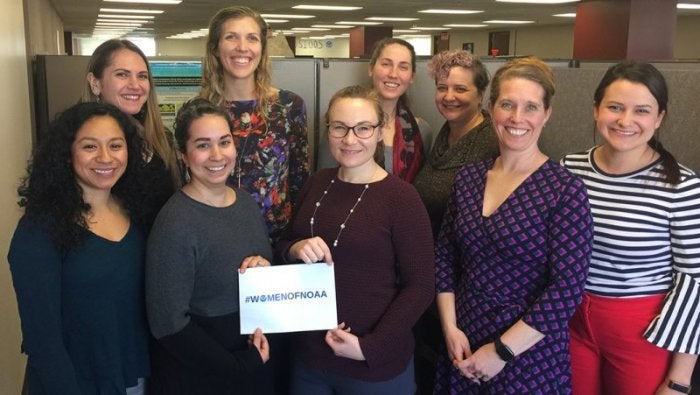 Women of NOAA - Back row (left to right): Jessica Mkitarian, Shelby Brunner (CPAESS), Anna Apostel and Emily Smith (CPAESS). Front row (left to right): Claudia Perez, Monica Morales, Kelley Uhlig, Jessica Snowden, and Emily Osborne (CPAESS). Not pictured- Kathy Tedesco (CPAESS).
Dr. Emily Osborne is a Program Specialist for the Arctic Research Program and serves as a program analyst for the Interagency Arctic Research Policy Committee (IARPC) and coordinating research activities such as the Distributed Biological Observatory cruise in the Arctic. When asked about what she would tell her 12-year-old self or women in their early career she said,
"Don't let science and math scare you - it can come to you as easily as English or history as long as you keep your mind open and have a curiosity to learn.  You can grow up to be a scientist even if you don't look like the ones you see on TV and in magazines. For early career females, find a support system and mentor in your work space that can be your foundation, lift you up and motivate you to break the mold. Don't be intimidated when you're the only woman in a room, be empowered by the change you are effecting."
Program Specialist, Dr. Shelby Brunner manages two international ocean observing projects including being the point of contact for the Tropical Pacific Observing System 2020 Distributed Program Office, working with the international Observation Coordination Group through JCOMM, and Argo floats which help us better understand the global oceans. When asked about her path to becoming a scientist Shelby said, 
"I grew up in a very rural area where people primarily had one of 3 professions, so I never really envisioned 'scientist' as something I could do until I got to college. I had enrolled in Environmental Chemistry because I really loved math and science classes, as well as the outdoors. I didn't really know where it would take me or what I could do afterwards (despite my parents asking). I found a really great mentor in the form of a Chemistry Professor who hired me to work in her lab over the summer and pushed me to apply for a NOAA Hollings Scholarship. I was the first student from my college to ever receive one. It led to me spending one summer at NOAA's AOML lab in Miami Florida working with many government scientists, and the rest is history."
Dr. Emily Smith serves a Program Specialist for Tide Gauges and has also worked with the Sea Level Rise Center in Hawaii. Her aim is to strengthen relationships between labs, cooperative institutes, and headquarters.
Last year Dr. Emily Smith saw a need for leadership training opportunities for women in science. With UCAR's support Emily led the effort to host the 2018 Earth Science Women's Network Professional Development Workshop at Center Green in Boulder to do just that. Approximately fifty women were able to practice hands on techniques to grow their leadership, management and negotiation skills. Topics included effective communication with scientific team (peers, colleagues, employees, students, supervisors, administrators, etc.), team-building in a way that promotes motivation and trust, guidance in giving and receiving both positive and negative feedback, and negotiating time, salary, and delegation. 
The videos of the International Women's Day Panels are now available to see for Day 1 and Day 2.
Happy International Women's Day to all of CPAESS' women scientists across the U.S. We appreciate your hard work and unique genius!
Scientist name
Kathy Tedesco
Emily Osborne
Emily Smith
Shelby Brunner
Announcement display dates
-