NOAA Climate and Global Change Postdoctoral Fellowship Program 20th Anniversary
Anniversary Main Page  |  Participants  |  Schedule  |  Presentations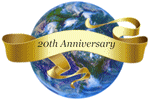 It's been more than two decades since NOAA launched its Climate and Global Change Postdoctoral Program. The C&GC program was created in response to a lack of trained specialists in a burgeoning area— and it's kept up with continued expansion in climate change study.
Nearly half of the program's 176 alumni gathered in Washington, D.C., for a 20th-anniversary reunion on 14–15 April, 2011. The two-day symposium honored and celebrated the program's success.
Emceed by Richard Somerville (Scripps Institution of Oceanography), the two days included lectures and panel discussions as well as science talks spanning the program's 20 years presented by program alumni and invited guests.
NOAA Auditorium and Science Center
1301 East-West Highway
Silver Spring, Maryland
---
UCAR provided airfare/train and lodging for eligible attendees.
Registration was required.