How Postdoctorates Apply to NOAA Climate and Global Change (C&GC) Fellowship Program
Deadline: January 6, 2023 at 11:59pm Mountain Time
 A recording of a previous question and answer session can be found below.
There are 4 sections to this page:
A program designed to train the next generation of climate research leaders
The UCAR Cooperative Programs for the Advancement of Earth System Science (CPAESS) help prepare the next generation of weather and climate leaders and workforce by managing fellowship, visitor and workshop programs that meet emerging needs of the atmospheric and related sciences communities.
This fellowship program is designed to provide an independent research opportunity to recently graduated PhDs who want to pursue interests that align with the NOAA Climate Program Office. The program focuses on observing, understanding, modeling, and predicting the climate system on seasonal and longer time scales.
Experienced scientists at U.S. universities and research institutions host the appointed fellows, providing mentoring and a collaborative environment to carry out their research projects.
Advance contact with a potential host is required. For additional information, see How Hosting Institutions Apply. Interested host scientists are required to submit a brief letter of intent to host the fellow, a curriculum vitae, a mentoring plan, and a list of current and pending research support. Hosts are expected to mentor the fellow and provide office, computing, laboratory, and field research needs for the fellow as appropriate.
Qualifications
Applicants must have a PhD degree in an area related to climate change research and have completed defense of the degree before starting the fellowship. Preference is given to new graduates who are seeking their first fellowship and who have held a PhD for no more than three years from the application deadline.
CPAESS strives to have diverse representation of universities and student backgrounds in the postdoctoral fellows cohort each year. We encourage applications from individuals who are members of a group that is historically under-represented in the atmospheric and related sciences, including students who are Black or African American, American Indian or Alaska Native, and Hispanic or Latino, female, LGBTQ, first generation college students, veterans, and people with disabilities.
U.S. citizenship is not a requirement of the NOAA Climate and Global Change Postdoctoral Fellowship Program.
---
Please review Selection Criteria and Program Policies before applying.
---
How did you find us?
Before you apply, please fill out this very short form. 
Thank you!
---
Application Process
There are two steps to the application process:
Prepare your application according to the Application PDF Format Instructions listed below.
Submit your application online according to the Online Application Instructions listed in the second section below.
Application PDF Format Instructions
Please prepare your application in one (1) PDF document, in the order listed below.
1. Cover Letter (one-page limit)
A cover letter stating the name of this program, potential host and institution, and where you learned of this opportunity. Please also add a justification statement, if applicable, to explain any breaks in career path.
2. Curriculum Vitae
Curriculum vitae including a list of publications.
3. Four Professional References
Provide list of names, address and email for four professional references.
Note: Applicants are responsible for contacting their references to ensure they respond to CPAESS' reference form by the application deadline.
One reference must be from a thesis advisor.
Potential hosts cannot provide a reference letter.
Reference letters from more than one institution are encouraged.
Applications without four (4) letters are incomplete and may not be reviewed by the Steering Committee.
4. PhD dissertation abstract
PhD dissertation abstract, including title.
5. Titled project description
Note: Description must be titled and not exceed five pages including figures and appendices (minimum 12 pt. font).
References are NOT included in this 5-page limit.
Proposals must describe an actual research project.
Proposal must be original, not sourced from a previously submitted proposal to a different funding agency.
Address the broader impact of your research to the community at large.
6. Statement of relevance and future interactions with NOAA
Statement of relevance to NOAA (one-page limit). 
Your Statement of Relevance should enhance and complement the research goals outlined at the NOAA website.
Future interactions with NOAA could include using NOAA data, establishing new collaborations with a NOAA scientist, giving a talk on your work and research outcomes at a NOAA Laboratory or Program Office, etc...
7. Inclusion Response Statement (one-page limit)
UCAR and CPAESS embrace a work environment that is inclusive, diverse, and equitable. Our employees come from diverse backgrounds, and we strive to create the kind of inclusive, supportive, and welcoming workplace that will attract and retain an even greater diversity of individuals in the future. As part of the commitment, we require an "Inclusion Response Statement" from applicants that addresses the role of inclusion, diversity, and equity in the Science, Technology, Engineering and Math (STEM) fields. 
Note: Statement may not exceed one page, minimum 12 pt. font, single spaced.
The written statement should include a discussion of the applicant's past activities and plans for future contributions to support diversity, equity, and inclusion.
For more information please download the NOAA C&GC Inclusion Response Statement Guidelines.
8. Host Institution Materials
Host materials should be provided to the applicant by 6 January 2023 and submitted as part of the postdoctoral fellowship application. (Please see How Hosting Institutions Apply for more information.)
Letter of Intent to Host

In the case of specific laboratory needs, a letter should accompany the application from the specific institution willing to provide the resources.
List of current and pending research support
---
Online Application Instructions
You must apply online at the UCAR Career Opportunities Page
Step 1.
To begin the application process select the "Apply" button. When prompted create a new account. If you have applied to a different position within UCAR please sign in to your existing account. 
Step 2.
You will then be prompted to submit your current resume as seen below.  At this point, upload your complete application as one (1) PDF document and select "Next".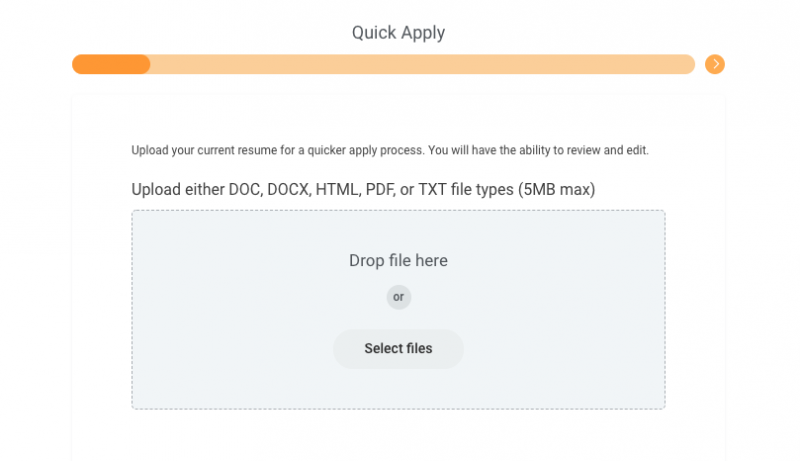 Step 3.
Add any missing information and/or edit and verify any information that autofilled on the My Information and My Experience pages.
You may receive the following Alert:

Please note your application has been received. The software was not able to use the information provided in your application to autofill the My Information and My Experience pages. Please proceed by adding any required missing information.
Step 4.
Continue the application process as prompted. 
Questions on the Workday application process may be addressed to HR Recruiting, or 303-497-8703.
Step 5.
Please have reference letters sent by email to UCAR CPAESS at cpaess-apply@ucar.edu.
Applicants are responsible for contacting four referees to have letters sent to UCAR/CPAESS by the application deadline. One letter must be from thesis advisor, but not from a potential host, and letters from more than one institution are encouraged. Referees should be directed to the online Reference Requirements.
---
Questions
General questions regarding this fellowship program may be addressed to bruyerec@ucar.edu or 303-497-8914.
U.S. citizenship is not required to participate in this program, but the selected postdoctoral fellows must be hosted at a research institution within the U.S. Appointed scientists are employees of UCAR. The two-year fellowships include a fixed annual salary and benefits: health & dental insurance, paid time off, paid holidays, mandatory participation in TIAA retirement fund, and life insurance. A relocation allowance is provided as well as an allowance for travel to scientific conferences and other support costs.
---
The University Corporation for Atmospheric Research (UCAR) is an equal opportunity/equal access/affirmative action employer that strives to develop and maintain a diverse workforce. UCAR is committed to providing equal opportunity for all employees and applicants for employment and does not discriminate on the basis of race, age, creed, color, religion, national origin or ancestry, sex, gender, disability, veteran status, genetic information, sexual orientation, gender identity or expression, or pregnancy.
Whatever your intersection of identities, you are welcome at the University Corporation for Atmospheric Research (UCAR). We are committed to inclusivity and promoting an equitable environment that values and respects the uniqueness of all members of our organization.