NEW WINGS Dissertation Fellowship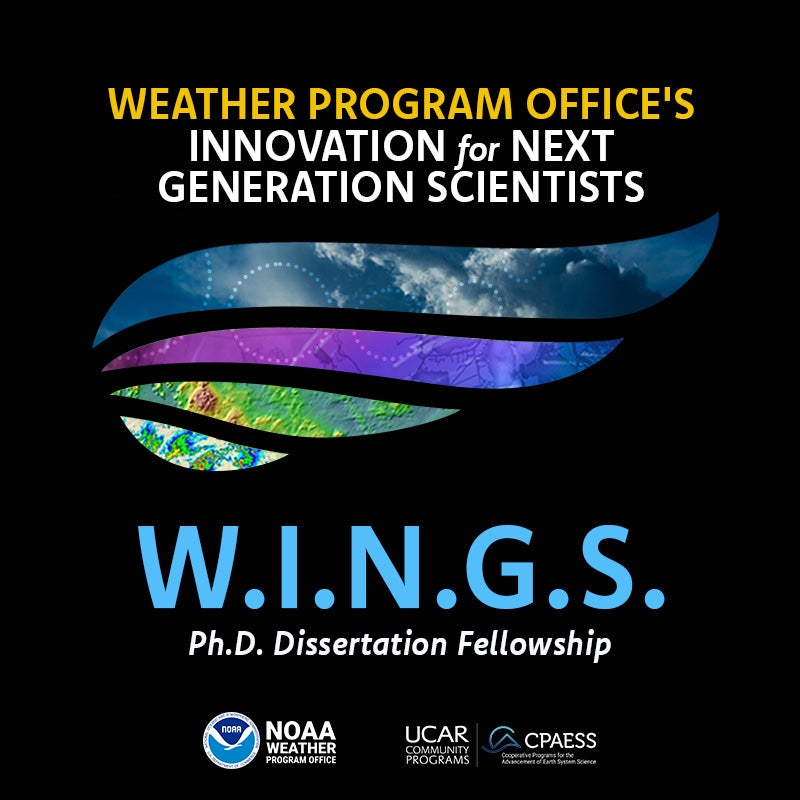 CPAESS is excited to announce the launch of the brand new Weather Program Office (WPO) Innovation for Next Generation Scientists (WINGS) Dissertation Fellowship! It enables you to gain real-world doctoral experience while working on your dissertation. 
The WINGS Ph.D. Dissertation Fellowship, supported by NOAA's Weather Program Office (WPO) and administered by UCAR's  Cooperative Programs for the Advancement of Earth System Science (CPAESS),  will develop and foster the next generation of science, technology, engineering, and mathematics (STEM) scholars, with the goal of bolstering the future workforce of America's Weather Enterprise.
The WINGS Fellowship is designed for Ph.D. candidates who have completed their required coursework, and in the beginning stages of writing a dissertation.  Fellows will work with their academic advisor and a mentor recommended by WPO and CPAESS, to provide  guidance  during  the dissertation process.  This inaugural award year will focus on research relevant to NOAA's Earth Prediction Innovation Center (EPIC) Program mission - to serve as a catalyst for community research and modeling system advances that continually inform and accelerate improvements in the Unified Forecast System (UFS), spanning local to global domains and predictive timescales from sub-hourly analyses to seasonal predictions. 
The first year of the program (2023) will be a pilot focused on scientific outcomes related to the EPIC program, which aims to improve operational weather and climate forecast systems through scientific and technical innovation via model co-development with the weather enterprise. 
Please find out more information and read the application instructions here.
Application Deadline January 27, 2023
Announcement display dates
-